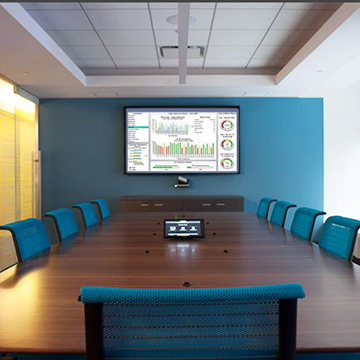 Larger conference rooms and boardrooms present unique telepresence challenges. You can get by with a screen or two and a couple microphones in a huddle room or smaller conference space. But a bigger room offers an opportunity to bring telepresence and video conferencing to the next level, and as these rooms are often the places where you'll be showing off the best possible version of your organization, you'll probably want a video conferencing set-up that matches your ambition and vision.
In short: you want a show-stopper. If the bigwigs are heading into your boardroom for a conference or shareholder presentation or international coffee klatch, you might want to consider an immersive solution like
Polycom's OTX Telepresence
, which can accomodate up to three 65" LCD displays, bringing your on-screen audience into the room in full size. You can't get any closer to actually sharing a room with someone. And with separate content displays, StereoSurround audio and optional lighting add-ons, OTX Telepresence can transform your larger rooms into spaces that boast beauty and functionality in equal measure.
Cisco's similarly impressive
TelePresence TX9000 Series
offers a three-screen, three-camera array ideal for groups of up to eighteen people--a perfect solution for executive meetings--but for a more streamlined immersive experience, there is
Cisco's TelePresence TX1310 65
, which retains the three-camera cluster but pares down the display to a single 65" LCD screen.
If you're into dreaming big, though,
Cisco's TelePresence IX5000 Series
is the way to go. With Three 70" LCD screens, the IX5000 Series is the first triple-screen solution to offer support for H.265, and with theater-grade audio and 4K ultra-HD cameras, this supersized telepresence solution is not messing around.
For larger conference rooms that will be hosting brainstorming sessions and less formal meetings, a fully integrated collaboration solution like
Polycom's RealPresence Group 700
is worth a look. RealPresence Group 700 can accomodate multiple cameras, content sources and microphones, so everyone in the room can rest assured that their voice will be heard and their face seen.