Solutionz, Inc. named Commercial Integrator's 2019 Integrator of the Year.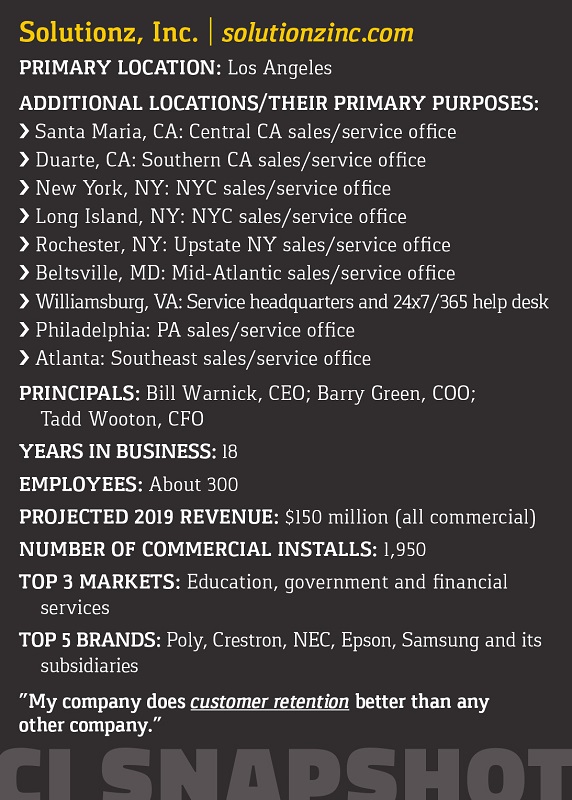 Solutionz, Inc. is a bit of a paradox in a world that prefers direct answers and easy solutions to complex problems. On one hand, the leadership team at Solutionz, Inc. has lived most of its 18-year existence largely under the radar, quietly building the company through organic growth and "opportunistic" acquisitions, all while eschewing media attention and interviews.
***note: this article was originally published in Commercial Integrator Magazine.
At the same time, CEO Bill Warnick embraces the idea of the $150 million Los Angeles-based AV integration and unified communications firm eventually being considered the best in the industry. It's a lofty goal, to be sure, but Warnick doesn't shy away from it
"It stems from our ownership," says Warnick, referring to Fernandez Holdings Group, the company which charts Solutionz's direction under founder Kirk Fernandez, who started Solutionz in 2001 while he was a student at Pepperdine University.
From those humble beginnings, Solutionz has grown to one of the largest integrators in the industry, but Warnick has no plans to stop at this point. The company, he says, is "still on the hunt" for its next acquisition and isn't intimidated by its competition.
"If you're going to do something, you want to be the best at what you do," says Warnick, echoing Fernandez's philosophy. "There are insanely good business people in my peer group.
"We want to eat more than our share. If we drive each other in this industry, the people that will benefit is our customer base," he says."There's a lot of pie out there to be eaten.
"If we keep going the route we're going, if we keep growing through a combination of acquisition and organic growth, and we keep our eye on the ball and keep moving forward, we'll be #1 in this industry," says Warnick.
Although she's based in Philadelphia and Warnick is in L.A., there's been no major issues in aligning the philosophies. Jill Armand, president of Solutionz's northeast region, was one of the top executives at RTS, of the first company Solutionz acquired four years ago.
"We were worried about what was going to happen, but within the first couple of weeks, the twitch in my eye went away," says Armand with a smile. "Kirk told us to do what we do well and 'we're here to support you.' I've felt no issue with the distance.
"Financial stability was an immediate help to us and our customers. We still have the regional support for our clients and we act like a small company, but have the big company chops behind us," she says.
Shooting for the Top
Solutionz started as primarily a unified communications company that worked closely with Polycom and Tandberg, but has since added an AV integration arm that makes it somewhat unique in the industry.
That could explain some of its growth and its ability to add pieces and capabilities that have it poised to continue its climb up the industry ranks, says Warnick, who joined Solutionz in 2014 as VP of operations before taking over as CEO the next year.
"We have a view of the industry that's unique," he says. "It would be foolish of us to not use that to our advantage.
"Concentrating on the human aspect of our business and making sure our employees are front and center in what we do will make us unique in this industry," he says.
That focus on employees comes through Solutionz's four business pillars:
Hard work:

If you're looking to coast, Solutionz isn't the place for you.
Continuous improvement:

No one is ever done getting better at their jobs
Morale:

It's important for employees to feel good about the work they do
Bottom line:

Each employee's work and well-being drives the company's health
"We understand that in order to work smart, we must first work hard," says Warnick. "Throughout the company we espouse a culture of empowerment and accountability and realize that difficult situations should be handled swiftly and decisively.
"We make those decisions and actively coach so that we improve our employees' experience and that equates to better morale, customer satisfaction and the overall employee's bottom line," he says.
Although Solutionz has 10 offices scattered across the U.S., Armand says she feels connected to her fellow regional leaders and the corporate team.
"What we do really well is bring the leaders into our team," she says. "We do things together and make decisions together."
Solutionz also takes time to "celebrate our wins," says Warnick.
"That's a big part of our culture," he says. "We work very hard here and the company's bottom line is dependent on the bottom line of each of the individuals who work here." Warnick hosts quarterly town hall meetings where exceptional work is celebrated.
"When I started as CEO, I could tell you personal stories about all 80 team members," says Warnick. "Today, I have to rely more on our presidents, but I still get to meet individual employees. I love to have personal stories and celebrating greatness."
Solutionz: Evolving from a Dorm Room
Although Solutionz is on a different path than it was when Fernandez started it from his dorm room 18-plus years ago, that shift from being a UC-focused company to an AV integrator that specializes in video has seen it grow from $20 million to $150 million in the past decade or so.
Solutionz hasn't turned its back on its UC customers as it's increased its focus on AV integration projects, says Warnick. The emphasis on acquisitions has accelerated its growth but having Fernandez still involved enhances the decision-making process.
"That gives us a lot of financial freedom our competitors don't have," says Warnick. "It's allowed us to weather a lot of ups and downs in the industry and the economy in the last 18 years."
There's no particular quality or capability or even geography Solutionz targets when it's looking to make an acquisition, says Warnick.
"We really look at each company we're trying to acquire as its own entity," he says. "If the pluses outweigh the minuses and we see something in that company that we can affect change on that can result in a higher bottom line, it becomes something we want to pursue."
Solutionz has been especially active in the acquisition market in the last year or so, "we're still looking" for its next opportunity to add to the company, says Warnick.
He's learned there's no formula when it comes to incorporating an acquired company into the family.
"It all depends on the structure of the acquisition," says Warnick. "Sometimes it can be a six-month process; sometimes it has to be overnight. It's my job to make sure once we have the company, they're productive."
Warnick has "had to learn the hard way" in some cases about the complications of merging companies into a larger entity. That includes unifying CRM and ERP systems and basic core philosophies that change from one company to another, he says.
"We decided long ago we wanted to be on the acquiring side and that's led to some of the pivots we've made," says Warnick.
Armand has become a key component in that process since she was part of Solutionz's first acquisition.
"Kirk and Bill wanted everybody to be comfortable," she says, noting the company originally kept its name but eventually became simply Solutionz.
"Management is open in telling the team we're acquiring, but they talk about how it's good for the company and good for their careers," says Armand.
Even after making several acquisitions, Warnick says he's still learning how to do it.
"One of the biggest lessons I've learned through all of this is the degree and speed to which you achieve success depends on a lot of factors," he says. "The biggest of those is personnel management.
"We have to realize as leaders it's not a company we're acquiring. It's the individuals who make up that company. You have to keep it in your head that there's a human element. There's an art to walking that tightrope. The more you do it, the more adept you get. The strength of the company is the people in it," says Warnick.
Armand expects to see the flurry of acquisitions continue in the AV integration world.
"Most customers aren't putting in three huddle rooms; they're putting in 56 of them," she says. "That's something that some integrators can't afford to do. If they're working on a project of that size, they don't have enough staff to do anything else."
Balancing Profitability with Productivity
Like many AV integrators who've seen the industry become more commoditized, Solutionz has a recurring revenue arm that it calls integrated maintenance. That insurance policy on an entire room rather than single piece of equipment allows customers to add a service component to equipment, labor, maintenance and more.
"As simple as that concept is, we found it wasn't being used in the industry," says Warnick, noting it can be applied to a single room or an entire campus. The approach is customizable and includes savings for longer commitments, says Armand.
"Every client seems to have a different requirement," she says, noting Solutionz requires all design-build proposals to include integrated maintenance but it's shown as an option on bid proposals.
Armand is confident in her company's ability to meet almost any customer need after the company successfully delivered codecs via dogsleds to Alaska.
"If we can do that, we can do pretty much anything," she says.
Solutionz has a dedicated grants team that works with customers in education, healthcare and government to find money that would otherwise go unused. The company also recently launched a cybersecurity offering.
By the way, Solutionz's quest to be the industry's best integrator won't come to fruition at the expense of its employees' well-being, says Warnick.
"The idea isn't to be the biggest and be unhealthy," he says. "Your health has to come first. Profitability is a measure of health for your company. I would rather see the company be healthy with a stagnant revenue number than be growing but be unhealthy.
"We're here to stay in business long-term. We don't manage things quarter to quarter. It's not a make-or-break month. That's important to health of the business and the sanity of the employees," says Warnick.
Certainly, earnings before interest, taxes, depreciation and amoritization (EBITDA) is a key component of a company's health, but so too is revenue per head count.
"If it's too high, we have to hire some people," says Warnick.
There's "a constant balance between the company and our employees," says Armand.
"I'm OK doing the $5,000 install, but we can also do the $7 or $8 million install and everything in between," she says. "We look at our customers as partners. Most of our business is repeat and referral."
Solutionz has a unique philosophy when it comes to certifications and training.
"While certifications are important, it is far more important to have the knowledge that it takes to achieve those certifications," says Warnick. "We are dependent on and proud of our employees who have reached training milestones and what they accomplish every day addressing our customers' needs.
"But customers rarely ask to see your certificates. They expect you to install it right the first time and to fix their issues immediately. Your technicians must be able to translate that curriculum into the reality of the individual situation and turn that certification into a true tool," he says.
Read Next: You Have Money to Invest in Your Audio Visual Business: How to Spend It
Solutionz does "the lion's share" of its business in the U.S. while relying on partners for work outside North America. Warnick isn't sure if that will change as globalization takes a stronger hold on the integration world.
"We'll see where the road takes us," he says.