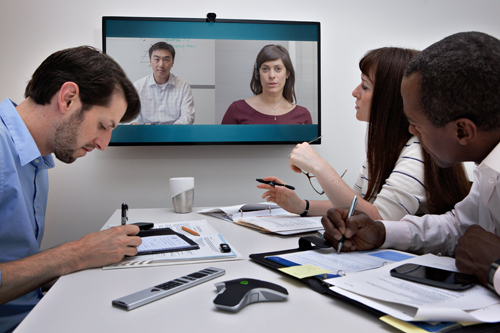 Collaboration and teamwork are essential in bringing people, processes, and products together, especially when it comes to manufacturing and innovation. For the proposal of a new product it is crucial that demands, advice and ideas from all portions of the Research and Development (R&D) value chain are considered for product development and success during the product lifecycle.
Video Conferencing and collaboration tools can reduces time-to-market, foster innovation, save costs, and decreases errors.
1. With collaboration and video tools the company can make paramount use of their abilities and experts from anywhere and at any time.
2. R&D employees can connect simply and securely in the comfort of their home office, with immediate access to expertise throughout the corporation and even with partners, customers and suppliers.
3. The R&D process can reduce unnecessary travel time, avoid costly corrections due to misunderstandings or due to lack of collaboration tools by deploying real time visual communication supported by tools such as content sharing, annotation, recording and streaming.
4. In the world of R&D, connecting live over content is vital. Take for example, the capability to share CAD drawings with team members while important conversations are taking place, produces a more thorough understanding of concerns and builds compromise faster. It is often required for design groups to view the customer's presentations first-hand or the production environment via video to make better informed decisions.
5. Prototypes can be visually revised and deliberated, decreasing cost and time for shipment of prototypes. Plus the value of recording significant meetings for logical property purposes and for new team members to get caught up if experts happen to leave the company.
6. It is simple and secure for specialists and teams such as repair and service personnel to be an integrated portion of the R&D process.
7. Ability to record allows a company to record best practices and share these videos to speed up the capability of all technicians. This is an intellectual asset that is rarely captured in companies, and video collaboration solutions offer this to be recorded effortlessly.
By establishing video conferencing and collaboration tools as an essential piece of the innovation process, creating communal decisions across any boundaries supports the company to design and produce superior products. As a result, lowering production expenses, achieving customer demands and reducing time-to-market should almost always confirm an advantage above the competition.