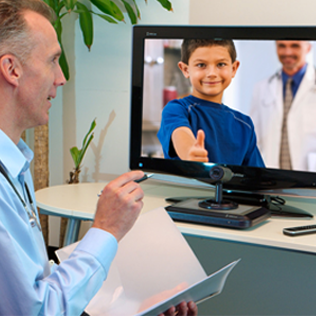 Accessing quality healthcare can be a nightmarish ordeal of bureaucratic wrangling, long distance drives, interminable delays, packed waiting rooms, rushed care and outrageous bills. But things don't have to be that way. There is no one-size-fits-all cure for this incredibly complex problem, but with the help of video conferencing solutions, healthcare providers are finding new ways to provide reliable and timely care to the people who need it.
Going to a doctor can sometimes feel like traveling back in time--the instant access and virtual mobility we enjoy in everyday life seems to vanish when we cross the threshold into the world of medicine. Seeing a primary care physician is relatively straightforward, but what if you need to see a specialist? That could be another endless wait or another long drive, and for folks in rural areas, we could be talking hours of additional travel. And for people who are seriously ill, such physical mobility isn't even an option.
But a medical facility equipped with video conferencing technology can put patients in touch with outside providers immediately. With a solution like Cisco's TelePresence service, for instance, a far-flung expert can be brought into the room in high definition video and audio with just a few clicks. No driving. No waiting. No unbearable anticipation or worry. The people who can help are already there, loud and clear.
The peace of mind this affords a patient is immeasurable. By bypassing time-consuming and potentially traumatic transfers, patients are often able to stay close to home, in a familiar environment near friends and family.
And for some people, a visit to the doctor isn't even necessary. Healthcare providers who use video conferencing technology to meet with patients can dramatically reduce primary care visits. According to a recent study, there are approximately 600 million annual primary care visits in North America, half of them for health problems that could be addressed without an actual office visit. So with a videoconferencing solution like Lifesize Icon Flex, which is interoperable with such applications as Skype and Lync, doctors and nurses can make house calls to patients to quickly assess the situation and, in many cases, eliminate the need for an in-person appointment.
It's not only patients who benefit from telemedicine solutions, though. The healthcare field is one of constant change, and it is essential for providers to keep up to speed with the latest developments in the industry. This continuing education, which often involves a good deal of traveling, can now be accomplished via video--a doctor can stream a live surgery, for instance, or an entire hospital staff can join a seminar from the comfort of a conference room. Doctors can keep abreast of developments in their field, and they don't need to sacrifice vital time that could be better spent with patients. It's a win-win situation.
Click here to explore our selection of video conferencing and telemedicine solutions.