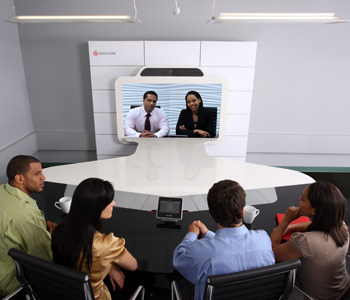 Polycom, the worldwide leader in unified communications, announced four of their customers received 2012 FGDLA awards. These were awarded to The National Park Service (NPS), the Defense Acquisition (DAU), the World Bank and Army National Guard (ARNG) as acknowledgement for their exceptional efforts to broaden learning in the federal sector. These organizations use the unifying hub of Polycom® RealPresence® video technology to bring the effective face-to-face video conferencing and learning from military service personnel to school children. The Federal Government Distance Learning Association (FGDLA) also awarded select leaders from Polycom, DAU and NPS for accomplishments in distance learning.
The winners of the 2012 FGDLA awards are:
National Park Service received FGDLA's Innovation Award for its growing unified communications (UC) environment which is integrated with the Polycom® RealPresence® Platform and video solutions. NPS employees rely on the network that is powered by Polycom video in order to coordinate activities across the NPS districts. This allows more staffers to join in meetings without the inconvenience of travel. It also allows students to visit popular US landmarks without leaving home. Using Polycom's People on Content™ feature the NPS was able to use TorchCam as the backdrop with the park ranger leading the field trip standing on top of the torch.
Defense Acquisition University (DAU)'s Global Learning and Technology Center won the FGDLA's Eagle Award for demonstrating outstanding leadership, advocacy and vision. DAU trains the workforce behind acquiring services and goods on behalf of the American defense agencies. They cost-effectively reach students deployed or stationed in 106 countries with a designed curriculum for distance learning environments. DAU produced over 203,000 graduates using Polycom video collaboration.
World Bank was awarded the LGDLA Innovation Award for its coordination of the Global Distance Learning Network (GLDN). GLDN is an affiliation of more than 80 countries and 120 global institutions that design learning solutions collaboratively for organizations and people in neighboring countries. The Polycom® RealPresence® Platform is the base of GLDN which has enabled more than 1,000 brainstorming sessions, multi-country dialogues, training courses and virtual conferences last year alone. These programs help those in developing areas including establishing a knowledgeable network in Bangladesh, motivating the avoidance of the Avian Flu in Latin America, give better access to cardiologists in Africa and accelerating private sector development in Mongolia.
The Army National Guard's Distributed Learning Program received FGDLA's Innovation Award for its distance learning network, which is powered by Polycom video. Their enterprise-wide network extends across nearly 340 classrooms. Additionally, ARNG develops custom courseware and gives on-demand classes through the Guard University initiative. With tight budgets and high expectations, ARNG implements the network to attain force readiness cost-effectively as well as train personnel and allow remote units to engage in activities that otherwise would require travel. In the first 90 days, Guard University logged more than 3,600 course completions.
Additionally, Polycom was honored with the FGDLA Pillar Award which emphasizes contributions not affiliated with the federal government. Polycom® RealPresence® collaboration solutions lets government agencies offer high-impact, low-cost ways to bring interactive learning to partners, employees, citizens and students, people in remote locations or those unreachable only through mobile devices. Companies and agencies, including the DAU and the National Defense University, rely on these Polycom solutions to broaden knowledge and skills, design solutions that change distance learning, expand the reach of instructors and decrease the expenses and time of traveling.
To learn more about Polycom's FGDLA awards, click here!