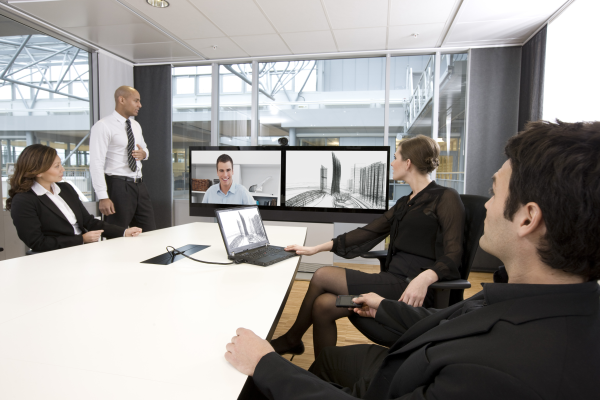 Cisco, the worldwide leader in networking, and Purple, a polling organization, surveyed US voters, finding 80% of people value video conferencing. Of those, 89% personally value the ability to connect two different manufacturer video devices and have them work cooperatively. The use of video conferencing has skyrocketed within the government, education and healthcare fields, and with consumers. The Cisco Visual Networking Index claims that in three years one-million minutes of video will cross the internet per-second.
The rate of video-calling services are increasing as well. Skype reported that on February 27th of this year, 34-million people were simultaneously using their service. As these services and video collaboration grow and continue to reach the mainstream, it becomes increasingly more important for video vendors to create interoperable products and services that will benefit the consumer. A great example of this can be seen in phone, email and internet companies (e.g., an Apple iPhone is able to call a Samsung cell phone without connection problems). In fact, 77% of those polled believe that video calling needs to be as effortless as placing a phone call.
One of the most popular video calling services, Skype, relies on privately owned standards which hinder the 600-million users from calling non-Skype users. This prevents Skype users from being contacted by non-Skype users via enterprise-grade systems. 83% of those polled want Skype to be compatible with other technologies. Further, 63% of those polled agree that if one company, such as Skype, controls the majority of the consumer video industry without making its product compatible/interoperable with both consumer and enterprise grade products, it will cut off innovation and slow the growth of technology related jobs.
Fortunately, Solutionz recently released a new service, Prime Call Cloud Gateway, a cloud-based service that enables Skype and Google Talk users to join video calls with enterprise-grade video endpoints (e.g., Cisco or Polycom products). The use of Prime Call Cloud Gateway solves the interoperability problem and the setback of having to settle on the most basic form of communication (Skype or audio-only calling).
It is apparent that video conferencing is quickly becoming a necessity for businesses and no longer a luxury. With the use of Prime Call Cloud Gateway, organizations can now connect their existing enterprise-grade infrastructure endpoints with consumer-grade endpoints.
Click here to read more about the survey mentioned.