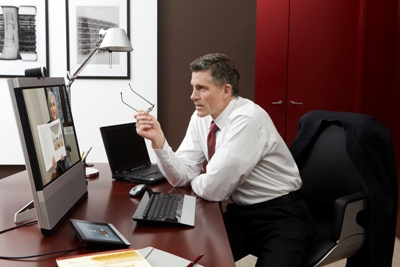 With high-speed internet, quality web cams and microphones, anyone can host a video conference, even a small business!
So, if you're considering investing in video conferencing solutions for your company, here are some of the most important ways your small business can use video conferencing.
Offer a one-on-one online meeting, because you can't always meet face to face. Invite business prospects to meet with you online, so you can meet their needs and collaborate at the same time.
Prepare a brief demonstration and offer your prospect a video tour of your business, what you do, and how you can add value to their business.
Host a small video conference with partners, resellers, sales people and others to work on new business opportunities, new strategies, immediate sales and marketing programs, and more. Share your computer, review a presentation, chat and collaborate in real-time.
Prepare a weekly online video conference at a designated time and day to answer questions, educate your prospects, and be available for service. Build more meaningful relationships and trust, then ask for their business.
Promote webinars and offer your products and information. Answer questions and give detailed discriptions of prodocts and services.
Share your video and your screen to demonstrate a product, review a presentation and most importantly, close a deal. Sometimes customers need something visual before they will complete a purchase, as they want strong answers, understanding of the details, and encouragement that your solution is "right" for them. Use an online meeting to avoid postponements and finish a transaction.
Collaborate with colleagues in a video conference to speed up the publication of new products, work projects, and deals, freeing up time to advance and pursue new business.
Showcase a customer success story on a video conference. Share your screen, a presentation, or even a YouTube video. Allow attendees to engage, so they can learn from your customer's experience and ask questions.
Organize a video conference training or demonstration and post the video to your website so prospects can watch, learn and then contact you for more information or to buy your product or service.
Host a video demo and share web cams and video streams while presenting to up to 200 live viewers who can chat and discuss your products and services.
Video conferncing is not for just the "big guys" anymore, small busniesses need to get out there and start collaborating!