Want to save on your bandwidth costs but don't think you can with your video conferencing needs? Now with Polycom's breakthrough H.264 High Profile in Polycom high definition (HDX) room telepresence solutions, you can! High Profile enables network resources to be dramatically reduced for all video-enabled organizations. It allows Chief Information Officers to power video communication with fewer resources while simultaneously meeting their budget challenge constraints. With this revolutionary breakthrough, Polycom Video Conferencing deployments can now be more cost effective, increase efficiency, achieve greater quality, accelerate ROI, and be extended to a greater number of sites than ever before.
Experts across the board agree - High Profile is a breakthrough that is more important and bigger than the previous video conferencing technology breakthrough back in 2003 - the shift from H.263 to H.264. New High Definition video conferencing systems benefit the biggest from the High Profile breakthrough, but benefits are also being seen with the entire video product line from CIF to SD to HD.
So why is this breakthrough so revolutionary? High Profile significantly lowers the key barrier (the need for increased bandwidth) for entry visual communication users. Organizations looking to add video conferencing are concerned that adding it may overwhelm their IP networks, however, High Profile now gives them the option to roll out video conferencing without redesigning their networks, thus allowing more organizations to achieve a broader deployment.
What's more, the savings is immediate - with the implementation of the H.264 High Profile for real-time video, customers can save up to 50% on bandwidth costs! Now your entire organization from remote sites to branch offices and rural locations can enjoy the benefits of high definition video conferencing quality! What are you waiting for, get started by learning more about the Polycom H.264 High Profile implementation!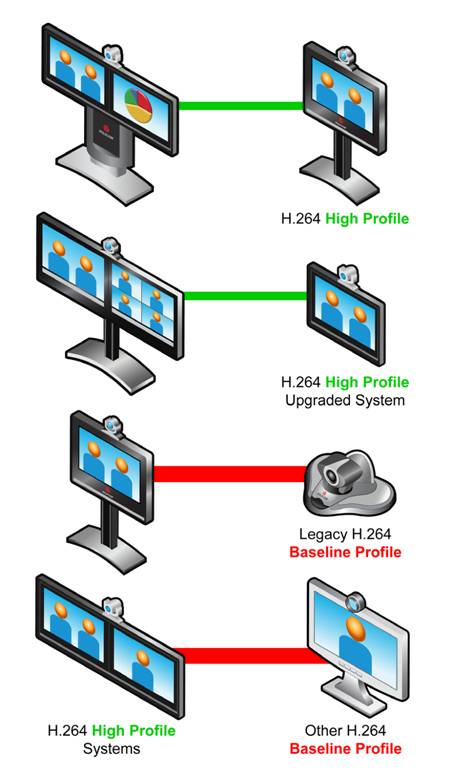 High Profile H.264 maximizes bandwidth when connected with other High profile video conferencing systems, but works with all current Baseline Profile video conferencing systems.