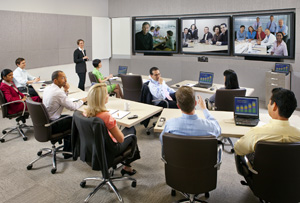 Polycom, the global leader in unified communications, provided their own Polycom RealPresence to the 2012 Tech Awards presented by Applied Materials. Polycom features legendary quality video conferencing services (known for their Polycom HDX system) helped the Tech Awards bring together past winners, current nominees in five categories, and one individual winner- all entrepreneurs who use technology to better humanity.
At the Tech Awards, past winners were able to take the "state" via Polycom RealPresence technology, and give updates on their progress and what they have done in the past year. The winners last year are Abhishek Sinha, CEO and founder of Eko India Financial Services Private Limited, and Howard Weinstein, CEO and founder of Solar Ear. They will be joining the ceremony from the New Delhi and Sao Paolo Polycom Executive Centers to speak with MC Hari Sreenivasan who will be in-person at the award ceremony along with Andy Miller, Polycom's CEO. The nominees each year are selected into five categories: Environment, Equality, Health, Education, and Economic Development. Past individuals to have own include former Vice President Al Gore, Queen Rania Al Abdullah or Jordan, Microsoft co-founder Bill Gates, and Emeritus James C. Morgan, who inspired this award.
The Polycom technology that was used at this event included both the Polycom Open Telepresence Experience (OTX) and the Polycom RealPresence Platform. The OTX uses a series of telepresence room systems which deliver live-like video and audio with content collaboration in an immersive environment. The RealPresence Platform provides users with unsurpassed interoperability and allows those on islands of broken communication systems to participate in a seamless video enterprise. This lets enterprise-grade video accessible to all participants regardless of location (mobile, on-site, or remote).