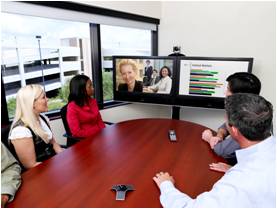 Solutionz is excited to tell you more about what Polycom solutions can offer you now that they have joined forces with Microsoft. As a team, Microsoft and Polycom execute a complete, end-to-end, standards-based unified communication solution optimized for the Microsoft UC platform. With so many enhanced products customers can expect better business productivity at lower costs.
The following Polycom solutions have been optimized for Microsoft's UC platform:
Polycom's RMX conference platform
Polycom's CX600 and CX500 UC devices
Polycom's CX3000 IP conference phone
Benefits You Can Count On From Polycom/Microsoft Solutions
Enriched collaboration
Performance at a higher level for any organization
Your most familiar video and voice tools are fully integrated
Better performing teams with empowered individuals
Improved productivity and strengthened relationships
Effortless communication – Always see who is available and also the best way to reach them (voice, video, or chat)
Calendars, content, and contacts stay with you wherever you go
Seamlessly connect over every media type and whenever you want
Remember high definition video and voice now uses as much as 50% less bandwidth when compared with other video solutions
Lower ROI
Take of advantage of easier upgrades and so much more!
Polycom's UC Intelligent Core Infrastructure and HDX Series telepresence systems deliver the first telepresence solution to the industry that is completely interoperable with Microsoft Lync. To learn more about what these new and exciting telepresence solutions can do for your company contact your local Solutionz sales representative today.